Research Guides, or LibGuides, are user-friendly, efficient, electronic resources that invite collaboration between librarians and instructors to meet the research needs of a particular department, class, or assignment. Our Library also uses LibGuides to offer instruction and step-by-step procedures for services the Library partners in including using Moodle, Media Center Services, and working on Assessment.
Librarians have developed research guides on a variety of topics. These guides help identify subject-specific materials including books, articles, web sites and other useful resources.

Staff and technologists have developed instructional and step-by-step how-to guides for accessing services and resources.

To Access the Research Guides:

From the Library home page
Click on Research Guides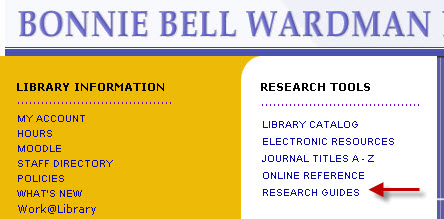 You'll be taken to the Bonnie Bell Wardman Library "LibGuides" page
LibGuides is a Web 2.0 content management and information sharing system. There are over 400 institutions worldwide using LibGuides to create content, share knowledge, and connect with faculty, staff, and students.